Southwest Military Fitness instructors all have two things in common – a military background and fitness qualifications.
Either currently serving, or have served in the UK armed forces, they all have relevant military or personal training fitness qualifications.
Throughout their military careers, my instructors were encouraged to be the best they could be and to achieve as much as they could through hard work, a positive attitude, and maximum effort at all times.
This is the approach we adopt at Southwest Military Fitness and you'll experience the distinctive motivational style (and irrepressible sense of humour) of our instructors from your very first session.
Our instructors enjoy working outside; thrive on meeting new people and the constant challenge of helping our members to achieve their health and fitness goals.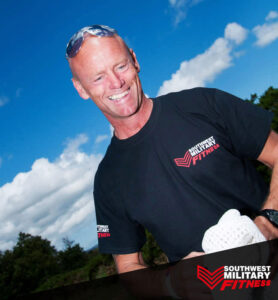 I joined the Army at a young age and was fortunate enough to be posted to a variety of interesting and diverse places. Upon leaving the Regular Army I moved with my family to the Southwest and have lived in Honiton for over 20 years. During this time I have been able to balance my passion for the benefits of service life with the demands of raising a family.
I strongly believe in the benefits of a healthy and active life. Strength of character, moral courage and discipline are the military's key principles and drives Army Fitness Instructors to deliver truly world class fitness programmes.
The aim of Southwest Military Fitness is to compliment these key principles with enjoyable, relaxed and personally challenging fitness training. Regardless of your level of fitness or your age, you will find that Southwest Military Fitness will cater for you.
Southwest Military Fitness is similar to circuit training and takes place in local parks, whatever the weather.The parks have been carefully chosen by me to make outdoor fitness training easily accessible for everyone. However, many of our members enjoy the sessions so much they make the effort to drive to parks further afield!
As part of the member benefits I offer, I organise fitness activities throughout the year. So far members have enjoyed walks  on Dartmoor, Woodbury Common Adventure Runs, Boxing Day Fitness Challenge, and a climbing weekend at Snowdonia National Park. Many of my members go on to challenge themselves in races, marathons and mountain climbs. But whatever their goal, I take my  enjoyment from watching people grow in confidence and self belief.